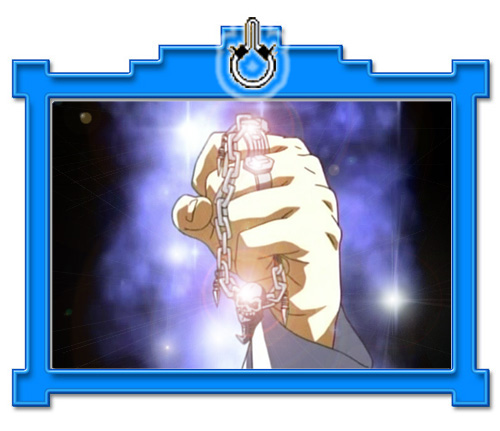 ÄRM. As the term says, it's something related to real "arms", that have the particularity to transform themselves. It's about an object created metallurgically with a particular power inside; jewels or some ornamental objects (as rings, bracialets or similar. But there are different forms and often the most rare and strong are very strange), that can be worn and them utilised as the user want, in every moment. There are different lines, with different functionalities:
Darkness ÄRM:

They are powerful dark ÄRMs, with whom it's possible sending curses, but they have a cost; in fact, the user has to pay a pawn, that has repercussions on the user's body as consequence to the curse that he threw.


Dimension ÄRM:

This ÄRM can transfer in different places his user and everyone who's mentioned. This kind of ÄRM was often a "field of action" well determinated, that isn't unlimited, the only exception is Monban Pierrot, who can take his user where he want, even in other worlds.

Ghost ÄRM:

As the name says, it's something about "ghost arms" of an incredible power, that need of a big sacrifice: in fact they damage the body of their user, making of him a living ÄRM.

Guardian ÄRM:

They are monsters that are evoked by the activation of the ÄRM. They could be of different kinds and usually to protect their users. In different ways they could even be destructive was weapons an kill.

Holy ÄRM:

It's about curative-power ÄRMs, that can cancel some kinds of curses.

Nature ÄRM:

There are ÄRMs that can inflict elemental hits or increase the physical power, sometimes some ÄRMs of this kind, can modify the physical characteristics of their users.

Weapon ÄRM:

They're utilised as battle-weapon, they're really fighting equipments.
hey're utilised as battle-weapon, they're really fighting equipments. There are moreover, simple ÄRMs, with whom people can eight anyway and the unique ones that can't be listed in any class (for example Babbo).
ÄRM BY CHARACTER


MÄR
CHESS NO KOMA
KING & QUEEN
KNIGHTS
BISHOPS
ROOKS
LUBERIA
OTHERS
FILLERS






















































Marchen Awakens Romance (MÄR Heaven) by Nobuyuki Anzai, anime by TV Tokyo, all rights reserved.
This is a fansite, we don't intend violate those rights.
marheavenj.net since 17.07.2006 (c) 2006 Diana & Dorothy Vietata la riproduzione anche solo parziale.