Hi! Welcome to PROMISE, the TAFL and TFL approved fanlisting for "A Little Pain", the first ending theme of the anime NANA! Performance is by OLIVIA inspì Serizawa Reira (Layla), singer of the group Trapnest, that present this song in the anime!
"A Little Pain" is a deep and intense song that doesn't mean that our affliction is tiny, but that this sadness needs to make us strong of our determination in order to do a difficult thing like waiting, waiting for our future.
And against a dark future made by our fear, living a "little pain" in the present is nothing in order to reach the only goal we need: happyness.

Olivia's voice is deep and warm, for this reason she can touch our hearts, communicating with our desires. It isn't a dialogue between persons, it's a dialogue about souls, so the last words are important and meaningful. This is an important theme for many touching moments of the series.

I adopted this fanlisting from the sweet Jordy in January 2009, I want to thanks her with all my heart!

This song is very important for me and I'm absolutely proud and happy to own and take care of it!!



Visit the proper sections for more particulars! :) And choose a link from the left to fully access the site and if you're fan of "A little Pain", feel free to join its fandom!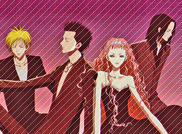 Script used: Enthusiast
Last updated: 26th July 2023
Member count: 208
Pending members: 0
Newest members: Lux
Part of Celestial Dreams
On-line since:

14th January, 2009


Owned by: Dorothy