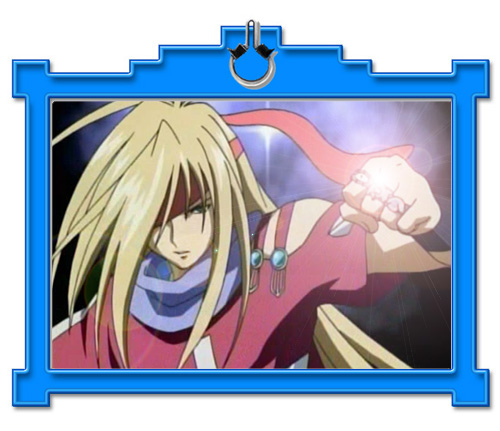 Nanashi is a type who prefers using the ÄRMs only if it is necessary and he's obliged, in fact, in his first apparitions he shows us just a little part of his real power. He prefers the Nature ÄRM of electric kind, because further to be his speciality, since as they are presents, for him they have a particular meaning.
ANDATA
Type: Dimension ÄRM
1° apparition: AKT. 33; episode 12.

Powerful Dimension ÄRM that many people own, it allow the users to go everywhere they want, just telling to the ring the place and the members to teleport. .

CRYSTAL BALLS
Type: Dimension ÄRM
1° apparition: AKT. 33; episode 12.

With this ÄRM it is possible to show in the same time the events in each place, even in the furthest.

ELECTRIC EYE
Type: Nature ÄRM
1° apparition: AKT. 36; episode 13.

Nanashi's favourite ÄRM, it is the first that he uses during the series, and it's about a powerful electrical discharge of thousands volts, that strike the enemies by lightening. It is a gift made by Galian.

GRIFFIN LANCE
Type: Weapon ÄRM
1° apparition: AKT. 78; episode 34.

The ÄRM that Nanashi usually uses to fight. It is a sharp lance, this is too a present of Galian.

THOUSAND NEEDLES
Type: Weapon ÄRM
1° apparition: AKT. 106; episode 44.

Nanashi usually uses this pendant as an accessory, in fact he uses it just once for a battle. It is about thousand iced spikes that came out from the hearth, hitting mortally the enemy.

JIMNOTE
Type: Guardian ÄRM
1° apparition: AKT. 108; episode 45.

It is an electric sea snake. Nanashi took this Guardian in Kaldea. With its deadly coils, it crush the enemy up to his death, nobody ever survive.

AEGIS
Type: Holy ÄRM
1° apparition: AKT. 142; episode 75.

The only Nanashi's Holy ÄRM. In the manga it is a present by Alviss, while in the anime it belongs to Pirun, a girl whom Nanashi was very fond of and he was the one who first gave this ÄRM as a present. It recovers very soon each kind of wound.




















































Marchen Awakens Romance (MÄR Heaven) by Nobuyuki Anzai, anime by TV Tokyo, all rights reserved.
This is a fansite, we don't intend violate those rights.
marheavenj.net since 17.07.2006 (c) 2006 Diana & Dorothy Vietata la riproduzione anche solo parziale.