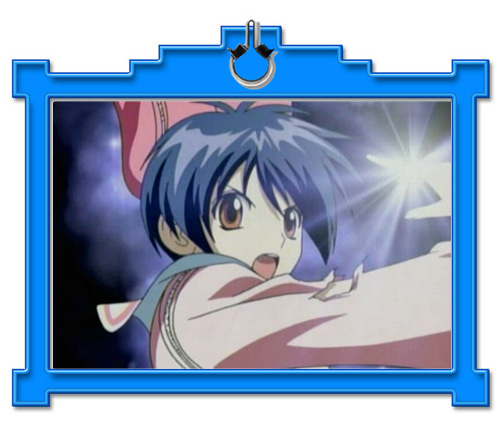 Snow is an elemental ÄRM user, because all her ÄRMs are about the element of the ice. She learns easily to use them and has a very strong magic power.
ICED EARTH
Type: Nature ÄRM
1° apparition: AKT. 14; episode 6.

This is the ÄRM that Snow uses for shut herself up into an ice block in order to don't let feel her magic power outside it. The chain is used even after that for fight, in fact it is used in many fights from the girl, that can create some iced blocks that go toward the enemy.

YUKI-CHAN (SNOWMAN)
Type: Guardian ÄRM
1° apparition: AKT. 22; episode 9.

Further on that an ÄRM, it could be a Snow's friend, because she treats it as one of them. It is a big giant of snow, that stays quietly on Snow's neck as a pendant when it's not fighting, but when it is needed, it change itself and uses all its power, becoming more than one snowman at the same moment. In the manga, when it is a pendant, it can do the same faces of Snow.

HEALING ANGEL
Type: Holy ÄRM
1° apparition: AKT. 30; episode 11.

It is a present made by Ginta, this Holy ÄRM can recover any wound, but it consume a big part of the magic power of its user.

ICE SWORD
Type: Nature ÄRM
1° apparition: AKT. 68; episode 27.

An iced sword united to Snow's arm. It's very powerful and sharped, perfect for the struggle hand-to-hand.

UNDINE
Type: Guardian ÄRM
1° apparizione: AKT.197; episode 40.

Snow's Guardian, it has a calm and nice personality, it follows the orders of her user and knows what to do even in worst conditions. Its element is the water and with it, Undine can do many fearful things for all its enemies.




















































Marchen Awakens Romance (MÄR Heaven) by Nobuyuki Anzai, anime by TV Tokyo, all rights reserved.
This is a fansite, we don't intend violate those rights.
marheavenj.net since 17.07.2006 (c) 2006 Diana & Dorothy Vietata la riproduzione anche solo parziale.