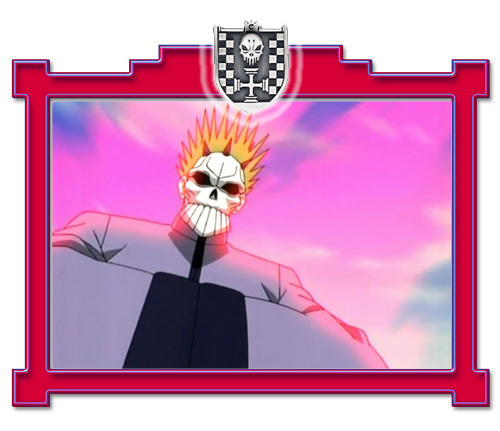 Chimera is a Ghost User, because she fights using her body, from which come out some awful limbs, that work as arms.
HOWLING DEMON
Type: Ghost ÄRM
1° apparition: AKT. 134; episode 71.

This ÄRM is Chimera's right arm.
It's about a toothed head that can snap and corrode everything that it has under its teeth, it can do it even if it brushes the enemy.

HOWLING DEMON (double)
Type: Ghost ÄRM
1° apparition: AKT. 135; episode 71.

Chimera has both her arms really monstrous, the two heads are different but they have both similar features, using combined attacks: with an arm she take the enemy, and with the other one, she tries to eat him and throw away his life.

OGRE HAND
Type: Ghost ÄRM
1° apparition: AKT. 136; episode 72.

The arms can change and some claws come out from them.
They can extend themselves and being very cutting.


CHIMAIRA
Type: Guardian ÄRM
1° apparition: AKT. 137; episode 72.

A Guardian ÄRM with two drills at the place of the arms, that Chimera controls from the higher part, as it would be a robot.
It has a big power but it's not very good in speed.




















































Marchen Awakens Romance (MÄR Heaven) by Nobuyuki Anzai, anime by TV Tokyo, all rights reserved.
This is a fansite, we don't intend violate those rights.
marheavenj.net since 17.07.2006 (c) 2006 Diana & Dorothy Vietata la riproduzione anche solo parziale.