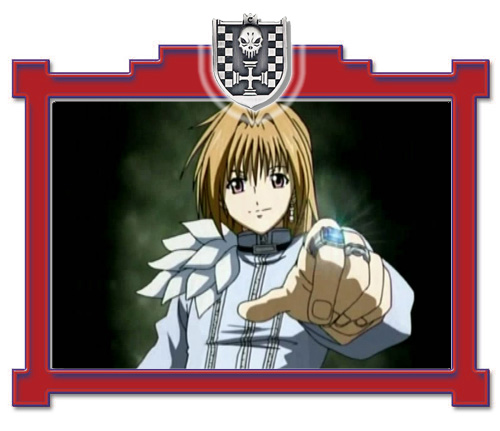 Lauren uses the most Nature ÄRMs. He's not predisposed to the fight and he doesn't do it if it isn't necessary, but when he's in a match as a disadvantage for his aspect, he's cool and pitiless.
STONE CUBE
Type: Nature ÄRM
1° apparition: AKT. 64; episode 29.

Some big cubes tha are composed by many little stones, which can explode at time or touching something (or someone).

MAGMA SNAKE
Type: Nature ÄRM
1° apparition: AKT. 65; episode 29.

Very similar to a Guardian ÄRM, it's a giant snake made of magma, whos' goal is to eat his target more than grip it in his coils.


RAPIER WHIP
Tyoe: Weapon ÄRM
1° apparition: AKT. 131; episode 70.

The only Weapon ÄRM ever utilised by Lauren, it's about a sword that can even become a whip.

AILES D'ANGEL
Type: Nature ÄRM
1° apparition: AKT. 132; episode 70.

In perfect synchronism with their User's nature, these two appartent angel wings, truly, allowa him to make an attack with the features, sharp and lethal.

COCKATRICE
Type: Guardian ÄRM
1° apparition: AKT. 133; episode 71.

This is the only Lauren's Guardian ÄRM. He has the features of an eagle, his lethal attack, similar to the one of the Gorgon's Eye of Candice, has the effect to petrifies his opponent.




















































Marchen Awakens Romance (MÄR Heaven) by Nobuyuki Anzai, anime by TV Tokyo, all rights reserved.
This is a fansite, we don't intend violate those rights.
marheavenj.net since 17.07.2006 (c) 2006 Diana & Dorothy Vietata la riproduzione anche solo parziale.