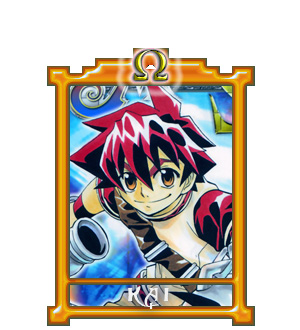 Kai is the main character of the story. Ha has a happy and lively character. He's a 14 years-old boy who dreams to own an ÄRM and beat up Ginta's achievements, his idol and saviour of MÄR Heaven. He never knew his parents, but he'd like to find out who they are; the only hint he has is a Magic Stone that he has with him from always. After that he knew Babbo and became his User, Kai began a journey in order to find the lost memories of the Dandy ÄRM, for realize his dream and bring back his country, sucked by a Fake ÄRM from one of Atomos' bungler.
Fond of a honest and firm personality, Kai never esitates to fight and learns to fight for what he thinks it's precious, counting in his friends' help.

>> SPOILER <<
Kai finds out to have the same blood of Babbo (before to become an ÄRM) and he desires even more to find his memories, because he's a relative. In a first moment, he fights against Gelda, a girl in his same situation who fights for Atomos, but afterward, the two fell in love with each other. After saving the girl from her sad destiny, the two stay together and live happily, with the people they love.


ÄRM: Babbo