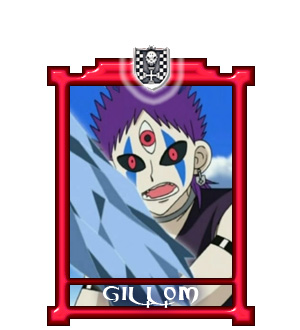 Gillom maybe is the most heartless and unhuman of the Chess.
This guy is absolutely arrogant and full of himself, he hates all things he dislikes and he doesn't have respect for life. He is an Ice User and his speciality is to make suffer innocent people, in the worst way. He is a heartless assassin and it would seem that he doesn't have good feelings, except for his sister Rapunzel, the only person that he respects.
He considers Ginta his rival and he wants to do his best to defeat him and becoming a Knight, even if he has to sacrifice his allies. He believes that he's crafty but his arrogance will be defeated from the pureness of Ginta's heart.

>> SPOILER <<
In truth, when he was a child, her mother abused of him and his sister, so the psychosis winwarded and he wanted to escape from the reality and be respected from the others. During a filler episode, he will make a team with Kouga and Pinocchion, trying to avenge Rapunzel, but he will be defeated here too, psychologically and physically.
ÄRM: Ice Doors, Egora, Crevice, Iced Earth, Big Iced Earth, Mazinga