AKT. 34





FIGHT IN THE LAKE CITY (1):
BROKEN MODEL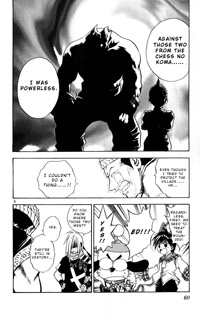 Nanashi used immediately Andata, and took everybody to Vestory.
As the group expected, the view was full of desolation. Nanashi had been there when it was a beautiful town, and he had come back finding only a heap of ruins. Ginta was furious, he would have not forgiven the Chess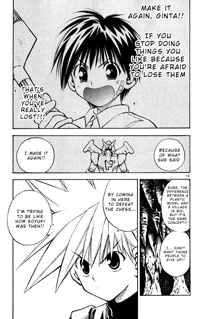 for what they had done to these poor people, that had also lost the will to start again, besides the will to keep going on. But the boy didn't lose his heart and screw up the courage of the villagers, inducing them to start again with all their strenght, even if, apparently, they hadn't anything, because he himself would have created the first hard terrace on which they would been able to rely on, that is the destruction of the Chess no Koma that caused this slaughter.
A villager told Ginta that the two Chess that went there, after destroying the town, went in an underground cave, that communicated with a little lake. In that cave, according to them, an important ÄRM was guarded, and they had gone there to take it. Nanashi was longing to kill those two bastards, and therefore, together with Ginta and an enthusiastic Dorothy, set off towards the phantom cave. In the meanwhile, Snow and Jack remained in the village together with Ed, trying to help the people in despair.