Ω 9.




THE THIEF OF LUBERIA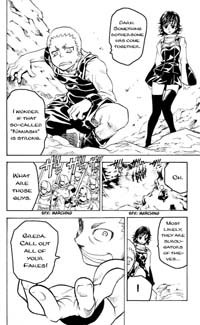 Kai and his companions arrive in the head quarter of Luberia, where they can't find someone. The only one that is still there is Nanashi, who appears warning Elisa that it's not good that a girl is there all alone.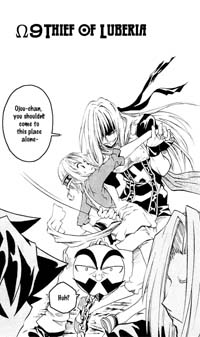 Kai understands that the one that's in front of him is the leggendary Nanashi, the person that Dorothy talked about, the one of six years ago, and so, he askes him his help, explaining the situation. Nanashi thinks that in Luberia, there are not places where there are precious objects as Babbo's memories, but he let the guys count on him in order to find other places with these important memories of the ÄRM, that are necessary for Kai, to get back his country, and to make more clear the situation, and defeat once for all Atomos and Unwetter, guilty of the creation of the Fake ÄRMs, the new challenge of MÄR Heaven.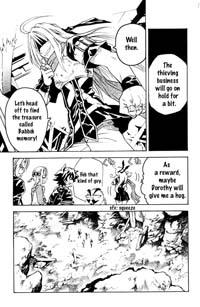 The blond-man, after knowing all of them, talked with Babbo and told him that there was nobody in Luberia, apart him, and he supported the fact to leave and help them, so then Dorothy would give him a "gratification", thing that motivate the boy the most.
In the meanwhile, Gelda and Mollusk were going to do a plane in order to trap Kai and the others, but the girl didn't agree with him, and seems that her will was the opposite of the one of her companion, who abuses of her and tries to tell what she had to do, because it was her fault if their country was taken as hostage, and if they wanted to bring it back, they had to take Babbo and end the work gave them by Atomos.
Nanashi took the guys in a place that maybe should gave them some hints, and there they found a surprise, two statues who went on from the walls, that told them to come in calling Kai and Babbo with their names, but they were just the result of the five Gelda's Fake ÄRMs, of which Mullosk used in order to set their trap.
Nanashi encouraged Kai, Elisa and Inga to go on and do their best, it was up to him, overall, now that he heard from Kai the same words that some years ago were told by Ginta "I want to save people", "don't let innocent people die, whom minds are controlled" and those words were the ones that told him to go on in this new adventure, preserving the respect and the justice for his life and for the one of the others.




















































Marchen Awakens Romance (MÄR Heaven) by Nobuyuki Anzai, anime by TV Tokyo, all rights reserved.
This is a fansite, we don't intend violate those rights.
marheavenj.net since 17.07.2006 (c) 2006 Diana & Dorothy Vietata la riproduzione anche solo parziale.