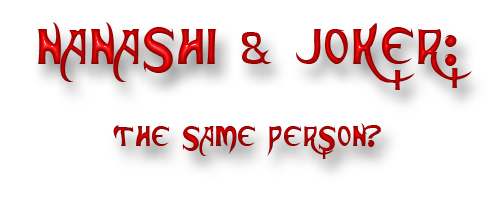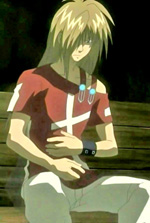 Basing ourselves on the manga (that, as all know is made first than the anime), unfortunately we can only do suppositions on Nanashi's past. There's nothing certain and nothing tested. In the 44th episode of the anime, Nanashi recovers his memory that was deleted by Galian, but we are in front of a double intrigued, because when Galian found Nanashi, the boy had no memory. What do we know of concrete? That Nanashi awakened confused and badly wounded. In the anime is shown that Nanashi's wound was in the stomach.
Babbo said to Ginta that he heard his same scent from Nanashi, is this a prouve that maybe the clothes that Nanashi wore when he awakened, his way to do things, his character, the passion for beautiful girls... All this is very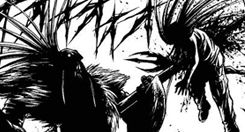 ... Too much familiar. Some years ago, Nobuyuki Anzai drawed another manga, which was a big success: Flame of Recca. Joker, a very loved and charismatic character, seems to have been sucked in a dark hole, created by himself, and then he died because he was badly wounded in the stomach.
When MÄR's story went on, we all asked ourselves... Who's really Nanashi? Is it possible that he has the same Ginta's scent because he's Joker? And that he doesn't remember who he is because in the moment when he was s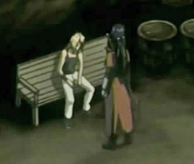 ucked in the dark hole he was badly injured and probably when he finished in MÄR Heaven, he beated his head and lost his memory? There are many ideas that all we thought about, and unfortunately, we can just do suppositions, basing ourselves on the elements that we have, creating in this way a sorta of "theory", that's nothing of official, but it looks like the most logical explanation in order to complete the puzzle of Nanashi's past and of the end of Joker.

We can begin from the look...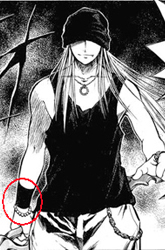 ug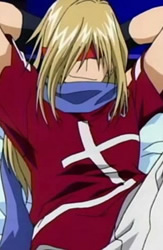 uui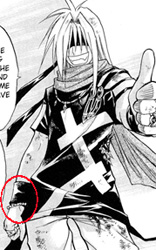 It's undeniable that the two characters are exactly alike, moreover if we see the wristbands that Nanashi wears... One of the two is simple and shorter, in the same wristband he has a bracialet that has Joker too. The same hair, the same expression, the same body, the same bad habit of hide almost totally his face...
Let's talk about the technique...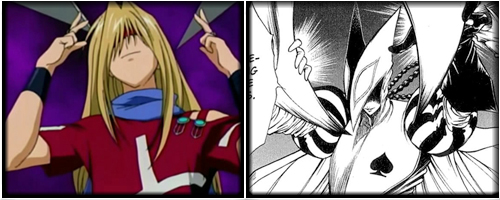 Even here we find a similitude, that could be a case, but we remember that when Nanashi stopped an endmy with just his bare hands, the selection for the War Games was just begun, and we hadn't see almost nothing of Nanashi, apart his big strenght and the power of his Electric Eye in the cave where he fought against Orco and Dorothy watched him astonished. "He's able to hold and to hide his power?" thought the girl, but wasn't this the same thing that Joker did? His way to do wasn't always unselfish and sometimes he gets on our nerves because he doesn't do anything with dedication, because it seems that he's always joking?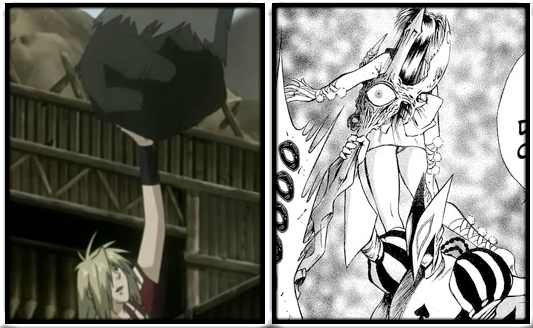 This is a scene that is shown in the anime... Nanashi fights with bare hands against a monster and defeats him, saving his Luberia's companions and their hideout... Here too, the same Joker's technique, the same scene where he uses the Taishaku Kaiten (tha lance with whom he can control the gravity) in order to throw Mikoto off of the ring, who not much time before, fought a disloyal match against Fuko.

That the resemblance is impressive, is a thing that we can see immediately, and at this point we think...
Anzai-sensei leave on purpose a crack on Joker's final because his attenction was to let him become a main character of another series? Well, that's what we think about. Nanashi is Joker, he has lost his memory and he found himself in an unknown world, where he gaign another identity and begun a new life, searching to look ahead, he did his best to find someone to call "family", to find a reason that let him continue to hope, someone who he can protect and that drives him to do his best and never stop. Nanashi has all of Joker, overall the good heart and the kindness, his wish to live inspite of his dark past (we don't know anything of the same Joker, but that he doesn't exactly how old is he, because he said that he hasn't counted his age from a long time, sn he must be a boy that let go himself very much and who has suffered), but, although all, he hasn't lost himself and the good feelings, since he kept his good and joking nature. The points in common between the two are too much, all, we can ask ourselves just a thing... When Nanashi fought against Galian and told him "I'll continue to use the name and the identity that you gave me still for a bit", he would say that he recovered his memory that Galian has deleted and that he would be the boss of Luberia, Nanashi, just a bit more, or that he recover ALL his memory and so he has no reason to use an identity that wasn't of him?
These questions will, unfortunately, never have an answer, if only Anzai-sensei will decide himself to show us what he thought about Nanashi's character.