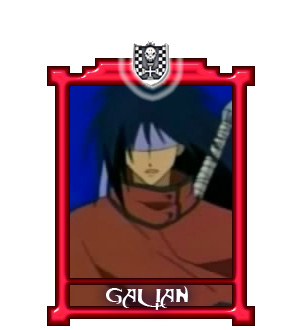 Important and mysterious member of the Chess no Koma, we don't know anything about him untill the moment when he fights against Nanashi and shows us his aspect.

>> SPOILER <<
It seems that the most of the time he talks it is with Nanashi, his only interest and obsession. In fact, Galian trains up to the day when he faces him, sure to win. Maybe for him Nanashi represents a "counterpart", and defeating him means get ahead of the strongest man he ever knew, but above all, over himself, because after been a sorta of mentor for him, he discovered that perhaps it was as if he overpassed him as master.
Galian in fact, was the boss of Luberia's guild and he left his position when Peta told him to became stronger and join the Chess no Koma. So he left his place of boss to Nanashi, deleting a part of his memories about him. With this last one, he always had a very special tie, probably due to the fact that he was the person who found him and save him from the death. After that, he trained him and gave him as a present one ÄRM. Nanashi, during the match of the War Game, blamed him many times about his betrayal to his family that he had in Luberia, that family that he loved so much and he killed with Peta. With this rancour, Nanashi tried to win the match and get his revenge.
After the defeat of the Chess no Koma, he will come back to Luberia with him.

ÄRM: Hiraiken, Electric Feather, Electric Frisbee, Magic Rope, Torpedine