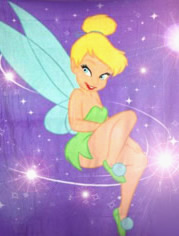 Everyone had understood that MÄR Heaven was a world which goes over the imagination, but that really MÄR Heaven was the place which James Matthew Barrie called the island of Neverland, this is a true surprise ... maybe.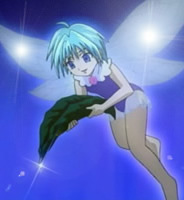 Did the Peter Pan fairy remember you anything? The pretty creature that was following him like his shadow (replacing the true one because it was not present XD) everywhere he went, and she was acting as his jealous girlfriend, well knowing that between her and the child anything more than that would have never been there that was already?

Well then, the little fairy that we are about talking is not only Tinker Bell, but also Bell , the happy and inseparable Alviss mate.

If we think that in the far 1904, Barrie was working to create Tinker Bell in his theatrical text, the fact seems almost a funny coincidence that practically 100 years later, Anzai-sensei was striving to draw the little Bell in MÄR, making her completely reflect the personality cre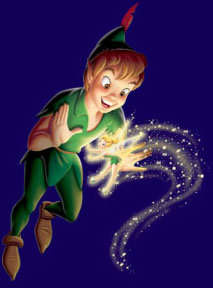 ated before by the Scotland dramatist.

Bell has all the Tinker Bell characteristics.
She is happy, cutting, funny, pure, and above all very in love with what is his "Peter Pan", Alviss.

All the characteristics of the two fairies fit together perfectly, and physically a part, it seems a "reincarnation" of the character, which repeats her attitudes and shows her marked personality in another fantastic context, where however the moral is the same.

Tinker Bell, jealous of Wendy, reveals to Capitan Hook where to finds Peter Pan hiding-place, causing the capture and hold in hostage of all young followers children of Peter, and also the hated Wendy, object of the Tinker Bell jealousy. Bell realizes more times that Alviss is very important for her much of what she believes, and in the episode 47 in particular (even if it is a filler), we are seeing a very like jealousy demonstration, where Bell runs away in tears, jealous of Snow, who had before succeeded in what she had ever failed: have something eaten by Alviss.
Bell is always worried about the boy for anything, she is always who procures to him the food and who fondles and spoils him, making him feel much less alone of that Alviss knows.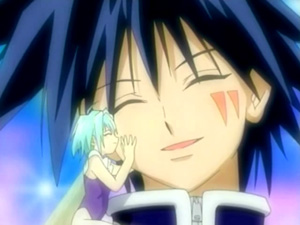 Her obvious love feelings towards him, are not sure returned to the same way, but it is undeniable that the boy feels affection towards the sweet fairy, that he has promised to protect forever, because for him she represents one of the most precious things, like Peter has done exactly with Tinker Bell after risking to lose she.

Same fairy, same platonic love story and effect shown, and above all same tenderness and will for live. It seems that Bell and Tinker Bell are a mirror one of the other, and is fun to think that Anzai has created a paradox on the character of Alviss, who on the contrary of Peter Pan, is not a child who does not want to grow, but a child who is grown too hastily, that tries to hide his emotions for years, but he does not lose his kindness and nobility of mind, because followed by the faithful little fairy who sees in he just that Tinker Bell sees in Peter, the more important person, that who be protected and protect, and I would say, at least for this, the two little fairies had chosen the right person.




















































Marchen Awakens Romance (MÄR Heaven) by Nobuyuki Anzai, anime by TV Tokyo, all rights reserved.
This is a fansite, we don't intend violate those rights.
marheavenj.net since 17.07.2006 (c) 2006 Diana & Dorothy Vietata la riproduzione anche solo parziale.