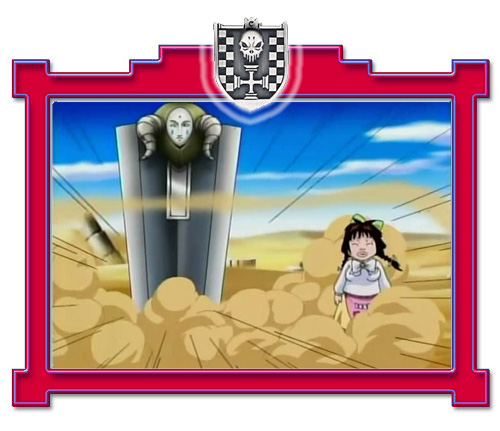 Emokis is a Nature ÄRM User. Her skills are limited (as her brain) and she can't differ the real world from the one of her dreams. She fights because of her beauty and against the ugliness of the other girls... >_>"

DANDALCIA
Type: Weapon ÄRM
1° apparition: AKT. 95; episode 40.

A liar sword that agreed with her User, telling lies on her beauty. It is used in battle and even if it seems to be heavy, when it is in Emokis' hands, it is very lightly.

FLOWER FORTUNE BOMB
Type: Nature ÄRM
1° apparition: AKT. 95; episode 40.

"Does he love me or not?" it is exactly the capacity of the flower, that Emokis uses making a question: "is she ugly or not?" refered to her opponent, and when she puts off a leaf, she splits the hair of the enemy.


HOUSE OF CAKE
Type: Nature ÄRM
1° apparition: AKT. 96; episode 40.

A house made of sweets and marzipan, that Emokis eats and, the meanwhile, assumes elemental skills (as creating a whirl with a blow) and grows up, becoming fatter, increasing her physical skills (but don't her brain).




















































Marchen Awakens Romance (MÄR Heaven) by Nobuyuki Anzai, anime by TV Tokyo, all rights reserved.
This is a fansite, we don't intend violate those rights.
marheavenj.net since 17.07.2006 (c) 2006 Diana & Dorothy Vietata la riproduzione anche solo parziale.