AKT. 39





FIGHT IN THE LAKE CITY (6):
SET SAIL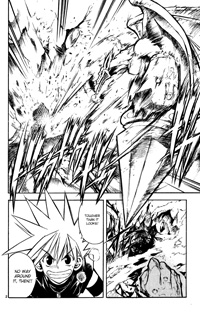 After he made Gillom fly away who kowns where, Ginta used once again Gargoyle, and this time at the maximum power, making him shoot a terrible and destructive ray, with which he destroyed almost the entire wall of the cave, so that he created a hole.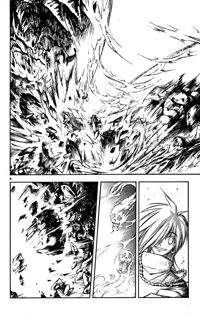 The spirits that in those six years have been imprisoned, were now free to get out, the little boy had managed to give them the peace that they deserved from a long time.
While Gargoyle was giving out the powerful ray, Phantom was watching it into ecstasies, as if what he was seeing was the miracle that he was waiting for from long time.
Ginta let himself fall on the ground, he was dead tired but happy. One of the spirits of the cave approached him and Babbo and thanked them, handing over to the little blond boy a pawn of their gratitude: a sphere, identical to those ones that Ginta used for the evolutions of Babbo, and a "key". Ginta was happy and proud, he had made it!!!