KAKINE'S STORYLINE:
NEW TESTAMENT VOLUME 7-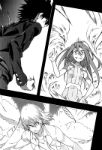 A new volume with new revelations is out.
Nothing about the rumors that Kamachi-sensei cited in the Epilogue of NT6, but something other.
It seems that the truth about Kakine's new condition is that now he can split himself in infinite parts (obviously made of Dark Matter, as all himself), and those infinite parts can get and develop a different personality, that will always be part of the original Kakine.
The concept is a bit difficult to explain, so I'll quote the explaination from New Testament Volume 7 itself, that surely will be more clear than me with my bad English.
From
ToAru Majutsu no Index New Teatament Volume 7
"But that also means I do not particularly need my primary consciousness. Unlike the Misaka Network, each individual unit is not controlled by one large consciousness and each individual personality is not given importance either. The more I split apart, the more my consciousness is split apart into independent minds and they join back together into a single consciousness when I join back together. If you break a cookie in two, it still tastes the same and it regains its original form if you place the two pieces back together."
This was the exact opposite of the Sisters and the Misaka Network where a problem with one portion of the network risked affecting all of them.
He could split apart as many times as necessary while retaining a sense of his self and he could still produce the same stable personality down to the last piece.
"No matter how much I split apart or how much I cut off, I continue to be Kakine Teitoku."
Basically, it means that, as Accelerator said previously, Kakine conquered infinite... and now this is his new condition.
The concept is applicable to the keychain that he gave to Fremea and the dakimakura that he gave to Fräulein.
They look like gadgets, but are part of himself that stay with the girls, so he has in some way a certain control on them.
Anyway, that's not wonderful as it could appear. The little pieces of Kakine can be controlled by outsider, and this is the reason why the Bettle that was with Fremea started to act strangely, giving her wrong suggestions that were about killing her,
In fact, in this novel Fremea is the target of heroes and enemies that want to save or kill her, n order to complete or destroy Agitate Halation Project, that has its cue in Fremea herself.
The keychain she had gave her wrong suggestions to escape, and instead of saving her, that Beetle was about let her die in the hands of the enemy.
However it didn't happen, because "the main Kakine" got the whole control of that other himself and saved Fremea teaming up with Touma, They fighted an enemy called Rensa, a cyborg that had all her body made of cyber parts but brain, that she was able to sobstitute everytime it could be necessary.
Anyway, Kakine and Touma have been saved by Fremea too, that looking at the sacrifices to everyone to protect her, decided to become the one that had to protect the others.
It seems that Kakine doesn't mantain his human body but the one of Beetle 05... because he become "a handsome boy" just to fight Rensa.
I'm so happy to have seen again his six angelic wings... they were not in Kamachi-sensei's description but we're able to see them in the wonderful illustration that Haimura-sensei made of him~