KAKINE'S STORYLINE: VOLUME 15-22

Kakine is a Level 5 esper, ranked as n.2 of Gakuen Toushi.
His ability is called Dark Matter and it is awesome. He can create materia that doesn't exist in the world and he can menage it to create what he wants. It's not a mistake saying that he has a power similar to the one of God, but he has his limits.
In fact, he's easy to lose control of himself and of his power because of his "schizofrenic" personality, and this is the reason why he always try to solve situations and problems without his Dark Matter, that everytime is used, consumes Kakine's mind. But when he understands that someone could joke with him, he's ready to kick him/her with no mercy.
His power is considered one of the most interesting and difficult ones to understand and study, this is the reason why when Accelerator defeates him, ripping his body part by part, his brain is setted in three parts, saved and studied by an organization called Dark Legacy, the same one that saved Mugino Shizuri from death (in NT4 we find that it's an organization of the Kihara Family).
Kakine's brain will be kept alive by Kiharas, that will use his capacity to create Dark Matter to develop new weapons and "monsters", as the Equ.DarkMatter, creatures with a Dark Matter overall that are used like soldiers and weapons in Russia, and that are defeated by Mugino, Hamazura and Takitsubo.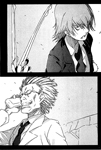 Kakine appears only in Volume 15, but his presence is strong even after that, because his battle against Accelerator will always leave a sign in the heart of the N.1 of the city.
Kakine represents Accelerator's anthytesis, who Accelerator would become if he never met Last Order.
Also, reading the novel it's clear that Kakine is not just a crazy megalomaniac that wants to reach his goal (whatever it takes), he's even a kind person, a sad person and a lonely person.
He saves Kinuhata's life saying to his comrade to call an ambulance for her, he leaves Hamazura and Takitsubo alive, he explains to Hamazura the meaning of the Body Crystal before Takitsubo could use it again, risking to die.
He has a heart, indeed.
Before facing Accelerator, he tries to ask to the Girl in Dress to help him with her power, but she refuses, adfirming that surely they would be defeated (and dead) in Accelerator's arms.
Kakine knows it very well with his mind, but he believed in a positive answer from her in his heart. So, without a help, he tries to find the most important thing for Accelerator, Last Order, in order to use her to beat him.
He finds Uiharu in his way, and since she refuses to give him any kind of informations about the little one, Kakine kicks her (aaaah, I love that moment

). It's only thanks to Accelerator's apparition if (unluckily) Uiharu is safe from death.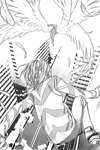 Kakine fights him trying to force his opponent to go nuts, and using all kinds of forms and weapon to defeat him.
He didn't face Accelerator to become the n.1, he was not interested in his position. The reason is that he needed to conquer the right to meet Aleister and to ask him something... that we can't know (for the moment).
It's specified that Kakine's reasons are valid, and he tought that a fight against Accelerator could be his only way and chance to be heard.
In that fight, Kakine used his Dark Matter to create six angel-like wings, that he used to fly and to attack his opponent.
They're really beautiful, and using them he looked like an angel. This is the reason why, many people on the net used to call him as märchen.
During the fight, Kakine tries to kill Yomikawa that was about trying to save his life from Accelerator's fury. When he finally got his goal to make Accelerator mad, the N.1 starts to fight like a beast, ripping Kakine's body apart.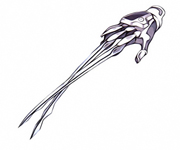 Surely the Dark Matter is a wonderful power, but Kakine had another 's offensive (and investigating) great weapon, that's called Tweezer.
It's a glove made of nanodevices that he reassembled to use it better, and that is useful in a lot of ways. He can comunicate with his comrades, he can register informations and he can use it as a mortal weapon with two clows to fight.
Aaaah, I really love Kakine and his way to fight with the Tweezer~
Anyway, this is the moment in which Kakine loses all himself, becoming "a brain in a fridge", and he remains like that for a long time until the moment in which his Dark Matter finally evolves at the point that he's ready to create a new body for himself.