KAKINE'S STORYLINE:
NEW TESTAMENT VOLUME 1-6

The researches about the Dark Matter goes on and on, and in To Aru Majutsu no Index New Testament Vol.4, a woman and a researcher, Kihara Yuiitsu, adfirms that after a lot of tries and sacrifices (litterally... people like Kihara Biyouri sacrified to let Kakine's Dark Matter to evol), he'll be able to create a new body for himself.
Before that moment, we can see the Dark Matter used to create every kind of weapons, but only in Volume 4 it's clear that only Kakine's will can manipulate it.
In fact, with the development of the story is revealed that Kakine is able to control his Dark Matter even without not just a body, but without a brain. That's considered like an organ, so it's clear that which products the Dark Matter is not his brain but his own consciousness. So, Kakine is able to create everything, even himself.
It's in New Testament Volume 5 that we can see him again, when Kihara Yuiitsu tells him to go to search for a person that escaped from the Windwless Building, Fräulein Kreutune, that needs to be captured again. Kihara Yuiitsu tells him to go everywhere he wants and that he's free to get nuts, destroying what he desires. Because that was the kind of scenario that Kiharas like.
So, Kakine is free to go where he wants, but he followed the orders about finding Fräulein in a personal way, so he creates five giant rhinoceros beetles with his Dark Matter, and he orders them to find the woman.
He did it to be free to meet and face again the person that is like an obsession for him, Accelerator. Obviously, he had more than enough time to think about his moves, his strategy and his victory, because he was recluded in the underground of a District, where the only thing he could do was thinking.
The reason is that Kiharas wanted to let his Dark Matter evol until he would reach a wonderful upgrade, so Kakine is totally different than before when he meet Accelerator.
As first thing, he was different in his appearance.
Since his whole body was made of Dark Matter, it was white, with just some gradation of color.
Even his brown hair was white, but his eyes was of a tonality of gold and bloody red.
Many times he says to Accelerator that his organs were destroyed and re-created to be used to create weapons, and he knows that now that he conquered the inifinite, he doesn't need them or a brain. He doesn't need even a body, nothing. It's his consciousness that is able to product the Dark Matter, so even if he's killed again and again, he can create all the bodies he wants, even more at the same moment.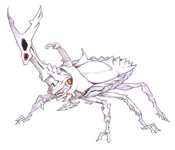 Speaking about the five rhinoceros beetles, they don't find Fräulein but Last Order, Fremea and the others, and they were about to kill them until the moment in which one of the rhinoceros beetles starts to act differently than the others, and try to save Last Order and Fremea.
From that moment on, that rhinoceros beetle, that's called Rhinoceros Beetle 05, becomes friend of the girls, and it enjoy the Cultural Festival of Gakuen Toshi together with them.
But... Why that rhinoceros beetle was acting in that way? Why it was about ignoring the order of its creator? The answer is that when Kakine's rhinoceros beetles met Takitsubo, her AIM Stalker disturbed Kakine's AIM field, so the rhinoceros beetles received different istuctions about what they need to do. Or more properly... this is the reason why four of them were killed, fighting each other. And Rhinoceros Beetle 05 developed a proper personality, completely opposite to the one of his creator.
That is the truth, but it's just one truth. Another truth is that Rhinoceros Beetle 05 was Kakine too, because it was born from him. Because it had his kind side, his will to protect, his will to trust the others. All the kind of sides that Kakine can't accepts. So, conquering the control of the Dark Matter and of himself, Rhinoceros Beetle 05 doesn't leave Accelerator and Mugino die in Kakine's arms, and it decides to kill Kakine himself.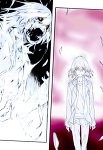 Or it's better saying that Kakine decides to kill the side of himself that is completely consumed by the Dark Matter.
Finally Rhinoceros Beetle 05 accepts the realty, understanding that it can't be anything but Kakine himself. So the white armor that looked like the shell of a rhinoceros is destroyed, and a single, white boy with a green light in his eyes appears, he's obviously the new Kakine Teitoku.
Finally Rhinoceros Beetle 05 became conscious to be Kakine, so he accept even to help his friends to find and protect Fräulein.
It seems that finally Kakine has found his true will to fight and to protect someone, but a rumor in Gakuen Toshi says that if a child is in danger, he needs just to call for Kakine and he'll come to save him... eh?
WHAAAAAAAAAAAAAT ABOUT THIS STORY??? What about the children that call Kakine "Rhinoceros Beetle"?????
Kakine's nightmare has finished, and now he's free to live like he wants, but... what his destiny would be about? I can't wait for the next volume!