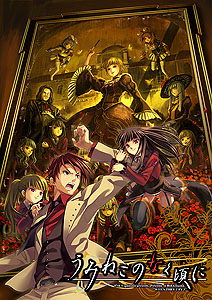 UMINEKO NO NAKU KORO NI


Umineko no Naku Koro ni (When the Seagulls Cry) is a Japanese murder mystery dōjin soft visual novel series produced by 07th Expansion. The first game in the series, Legend of the Golden Witch, was first released at Comiket 72 on August 17, 2007 playable on the PC; the game sold out in thirty minutes. The story focuses on a group of eighteen people on a secluded island for a period of two days, and the mysterious murders that befall most of the people. The goal of the game is to discern whether the murderer is human or of some other supernatural source. Umineko is the third title in the When They Cry series, preceded by Higurashi no Naku Koro ni and Higurashi no Naku Koro ni Kai, and followed by Umineko no Naku Koro ni Chiru.
A manga series adapted from the games began with three different artists working separately on different story arcs and is published by Square Enix. Additional manga have been published by Ichijinsha, Kadokawa Shoten, and ASCII Media Works. A 26-episode anime series produced by Studio Deen and directed by Chiaki Kon aired in Japan between July and December 2009.
The word umineko is the name of a kind of seagull known as a Black-tailed Gull. Naku means "to cry" or "to make a sound" (鳴), referring only to sounds made by non-humans when written with that kanji; no kanji is provided in the series logo however. According to the original creator, Ryukishi07, the red Na (な) in the logo is an official part of the title.