KIYOSHI KNIGHT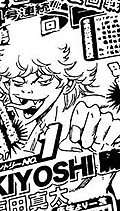 Kiyoshi Knight is Fukuda's manga, the one to whome he dedicated all his dedication and ideas.
It's a story of drugs, violence and battles. Kiyoshi is a liceal that fights against hooligang, and his reasons are... Shoko, the girl he loves. XD
Fukuda puts humor and violence in a manga that a boy reads to identify with the main character. In fac, Kiyoshi Knight is loved for the major part by boy, and it got a serialization after a lot of modifications.
It was presented monday 9th of August, in the Double Issue 37/38 of Jump. He got the first position, after if the third, and the 3rd chapter has arrived 7th.
Drawings aren't that good but the story is absorving, so the editors considerate it a good manga but just for a One-Shot. Fukuda gets a serialization in a second moment, and his manga becoming very popular. The sellings are high and Fukuda hasn't problems for a possible dropping.