SEIYUU
TSUDA KENJIROU
Tsusda Kenjirou is Kaiba's seiyuu since the second anime series. For the first series the one is Midorikawa Hikaru.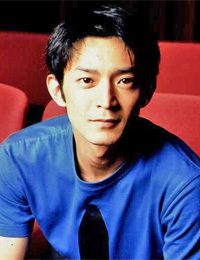 Birthdate: June 11 1971
Birthplace: Osaka
Height: 1.70m (5' 7'')
Weight: 53kg (117 lb)
Born on 11/6, Tsuda-san has dubs for various work: movie, anime, TV, OV, CM, radio. Anyway, he doesn't have much work on anime character. Nowadays, he dubs for two characters in two popular animes, Inui, a data tennis player in Prince of Tennis, and Kaiba in Yu Gi Oh.
Non-anime roles:
Inui Sadaharu in "Prince of Tennis Perfect Live" (Japanese)
Kuramoto in "Blue Sheets" (play) (Japanese)
Morinozuka Takashi in "Ouran Koukou Host Club Uki Doki Memorial" (radio)
Raigar in "Enchanted Arms" (VG) (Japanese)
Spitfire in "Air Gear" (Musical) (Japanese)
Spitfire in "Air Gear: Super Range Remix" (musical) (Japanese)
Staff in:
Tennis no Ouji-sama: Zenkoku Taikai-hen Semifinal (OAV) : Theme Song Performance (ED1)
Cast in:
Air (TV) as Keisuke Tachibana
Air Gear (TV) as Spitfire
Ashita no Nadja (TV) as Harvey Livingston
BECK: Mongolian Chop Squad (TV) as Rikiya Kitazawa
Bokurano (TV) as Ichiro
Capeta (TV) as Kei Kajiwara
Case Closed (TV) as Kiritani (ep 463)
Chocolate Underground (ONA) as Joe Crawley
Ginyuu Mokushiroku Meine Liebe wieder (TV) as Elmunt
Glass Fleet (TV) as Cleo Aiolos Corbeille de Veil
Glass Mask (TV 2005) as Chairman (ep 30)
H2 (TV) as Atsushi Noda
Katekyo Hitman Reborn! (TV) as Lambo (adult); Romeo
Kekkaishi (TV) as Byaku
Lemon Angel Project (TV) as Masami Kudou
Lovely Complex (TV) as Ryouji Suzuki; radio announcer
Nabari no Ō (TV) as Kazuhiko Yukimi
Naruto (TV) as Emon
Pokemon Mystery Dungeon: Team Go-Getters Out of the Gate! (special) as Hasubrero
Rurouni Kenshin (TV) as Toramaru
Saint October (TV) as Kurtz
Sisters of Wellber (TV) as Zarado Shisupuri (ep 12)
Sisters of Wellber Zwei (TV) as Zarado Shisupuri
Soul Eater (TV) as Mifune
Speed Grapher (TV) as Niihari
Sugar Sugar Rune (TV) as Rock'n Lovin
Suicide Club (live-action movie) as Mita
Tennis no Ōji-sama: Zenkoku Taikai-hen Final (OAV) as Sadaharu Inui
Tennis no Ouji-sama: Zenkoku Taikai-hen Semifinal (OAV) as Sadaharu Inui
Tennis no Oujisama: Atobe Kara no Okurimono (movie) as Sadaharu Inui
The Prince of Tennis (TV) as Sadaharu Inui
The Prince of Tennis: A Day on Survival Mountain (OAV) as Sadaharu Inui
The Prince of Tennis: The National Tournament (OAV) as Sadaharu Inui
The Prince of Tennis: Two Samurais, The First Game (movie) as Inui, Sadaharu
The Skull Man (TV) as Yamaki
Yu-Gi-Oh! Duel Monster GX (TV) as Kaibaman; Seto Kaiba (ep 35, 62)
Yu-Gi-Oh! Duel Monsters (TV) as Seto Kaiba; Priest Seto (Part 7: The Pharoah's Memory); Critias (Human Form (Part 5))
Yu-Gi-Oh!: The Movie (U.S.) as Seto Kaiba
Zoids Genesis (TV) as Seijuurou
Informations from: JAnime, Seiyuu Info & Animenews Network