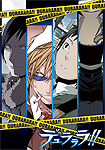 STORY
Durarara!! is about a number of unusual people who gather in Ikebukuro, Tokyo--- a youth who yearns for an un-mundane life, a hoodlum, a stalker denpa-girl, a young man who deals in information 'for fun', a black-market doctor, a high-schooler obsessed with magic, as well as a 'headless rider' riding a bike painted black.

These unusual people begin a series of abnormal stories that never fail to create headaches. But, although their personalities are all twisted? they still talk about love.
PLOT
Mikado Ryugamine is a young man who longs for the exciting life of the big city. At the invitation of his childhood friend Masaomi, he transfers to a school in Ikebukuro. Masaomi warns him about people he doesn't want to cross in the city: a violent man dressed like a bartender, an information merchant, and a mysterious gang called "Dollars". And to top it off, Mikado witnesses an urban legend on his first day in the city: the "Black Rider".