Yui is a funny character but she hasn't deep relations with the others. Surely Otonashi is the person that helps her to find peace and disappear, but he didn't feel nothing special for her, because he considered Yui as all the others.
The real (and only) one that share a very intense relation with her is Hinata.

They started to fight in the third episode, when Yui makes her performance in order to became the new leader and lead vocalist of GDM. Hinata is the first one adversed to her, but Yui obtains the role thanks to the members of the group.
After that moment, they start to fight again and again in all the episodes, until the 10th one.
Since Yui is the kind of person that can't hide her feelings and that can't be fake with the others, I've never thought that her relation with him, where she calls Hinata every name under the sun and vice-versa, hiding something special and very deep.

When Hinata was about disappear, in the fourth episode, Yui stopped him, apparently because she didn't want to let him realizes his regret, but the truth is that she wanted to stay with him.
Episode by episode they don't let transpire their real feelings, but in 10th episode finally we find the truth: they're in love.

Hinata says to her that even if another life, even if in another world, they'll always stay together, and he'll realize her dream marrying her!
That part is really touching and Yui's feelings for him finally can be showed.

"No matter where or how I meet you,
I'll fall in love with you"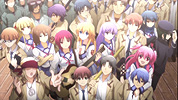 Hinata disappears in the last episode and after do it, Otonashi says to him to say goodbye to Yui for him, if he could meet her, and Hinata replies that he's sure to meet her again and that the last luck that he was to leave in that world, will be used to meet her again.