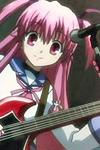 Name: Yui
Seiyuu: Eri Kitamura
Role: Leader and Lead Vocalist of the band Girls Dead Monster

Full of live and rich of an infinite energy.
Yui is the character that more than everyone symbolizes the happiness and the will to work hard.
She appears since the third episode, when Iwasawa disappears after has rich her goal.


Yui always looked at her as her heroine, and her goal in that world is to continue Iwasawa's role, bocoming the vocalist and the leader of the band Girls Dead Monster.
in a first moment Hinata and other members of SSS object her submition as Iawasawa's sobstitute, because Yui hasn't Iwasawa's talent and charisma.

Yui can't sing and playing guitar at the same time, and her voice isn't deep as the one of her precursor, but since GDM are just a diversion that Yuri uses to distract the students when she decides to face Tenshi.
Since the last decision is left to the members of the band, they say "Yes" and Yui becomes the new leader and lead vocalist.


The major reason is that she is Iwasawa's biggest fan and she can sing all her songs. Also, she did a lot of experience making concerts at the street (and because of this, she's pretty popular with little groups of girls), and she wants to air her passion for music to the others.
In fact, she's a funny and amusing character that isn't that important. She's totally useless for the major mission of SSS and since she's clumsy, rude and vulgar, she's always in opposition to Hinata, that always rebukes her for all the troubles she makes.


It's because of Yui if he doesn't desappear in the 4th episode, because she kicks him just in the moment in which during the Baseball Match, he was to get the last ball, ruining the fulfilment of his dream.
Yui is always together with the others but she isn't a real friend for no one.
The profe is the fact that she doesn't know the names of her comrades, except for the people that she really loves, as the members of the GDM.
So, when Otonashi decides to makes her able to disapper, realizing her dream, she explains to him that she hasn't just ONE dream, she has a lot of things that she wasn't able to realize in her real life.

it's very difficult to Yui discussing about her life, because the real herself is totally different than the one that Otonashi and the others know there.
She was a disabled person, a girl that because of a car incident, became totally paralized. She can't move a leg, and arm, and even a finger. All her life was looking out of the window of her room, always sitting in her bed.


The one of her was a sad and difficult life, because her mother was the only person that took care of her, and Yui knew to be a burden to her.
Those conditions constrained her to live as a vegetable, dreaming a life that she'll never could have.
Because of this, she has a lot of dreams. Be able to do a German Suplx, to sign a goal playing soccer and dribbling five persons, be able to hit an homerun playing baseball.
Otonashi menaged to help her to realize all these dreams, but even if she tries to all herself to hit the homerun, she can't do it. But it's ok for Yui, she moved her body a lot and she did her best with Baseball. But, after it, she hasn't desappered yet, and Otonashi can't understand why...


The reason was that there's another thing that Yui wanted to realize, the biggest desire, the biggest ambition for a girl, something that surely she'll never do in her real life: be a wife.

Yui's desire was to marry someone, but obviously where she can find a person minded to marry a disable girl that can't walking? Can't do houseworks? Can't have babies?
Yui's thought was that God is cruel.

But in the moment is which she was about to cry, a voice of someone told to her "I'll marry you"! And the one that pronunced those words was Hinata. The same "senpai" that always had a fight with her, the person that really Yui loved and that loved her.
Hinata tells her beautiful words, making her able to understand that he isn't interested in anything but her, because even if the Yui that he knew in this world is different than the real one, this one isn't fake!


And he promises that if in a future they'll become again, he'll take care of her and he'll stay by her side. Hinata will love her forever, and Yui understands that in whatever situation they could live, they'll always be in love with the other one.

The last moment of Yui... Really, it makes me cry all the times I think of it.
When Hinata becomes able to let her understand his feelings, Yui smiles asking to him a last, important thing, that he could do when they'll meet again.

"Hey, when that happens...
My mom's always working hard by herself to take care of me... Could you help her out?"


After Hinata's positive answer, finally Yui can disappear, free by any kind of regrets.
Her last thought was for her mother, and we can really think that she's the biggest regret of Yui: to know that her mother now is alone, and for all her life, she took care of her...

There's no character that touched my heart as Yui and her tragic story did. I really love this girl so much anf thinking of her I always try the courage to do even the things that I don't like, because I'm lucky, I'm VERY lucky to live a life in which I can do what I want... and I wish her to find the biggest happiness in a life in which she'll marry Hinata and she'll live happily with him and her beloved mother.