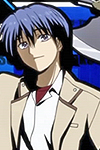 Name: Hideki
Surname: Hinata
Seiyuu: Ryohei Kimura
Passion: Baseball

Hinata is the first person that Yuri meets in the place that we can consider a sort of Limbo.
It's together with him that they create the SSS Team, and it's thanks to Hinata if Yuri continues to be self-confident even in difficult moments.
Also, Hinata is Otonashi's best friend and the only one that remains with him and Yui until the end. Sometimes they pretend to be yaoi LOL.

Hinata is a very funny boy, someone that always says what he thinks and he never lies in order to be kind with the others.
He's quiet and cheerful, but he can be serious when is the right moment.

He's considerated a stupid and and idiot for all the series because Yuri treats him as a puppet without takes care of his feelings. And, to be sincere... the situations in which Hinata is used by her are so hilarious that he always seems a totally stupid boy.
The real meaning of Hinata's personality is that he's a golden boy with a golden heart, and this is the reason why who knows him always finish to think about him as a puppet or an idiot.
It's knowing Yui that he shows the most tsundere side of his personality, and fighting with her they become the best couple of idiots of the series.

The episode dedicated to him is the third one, where we can know his past and his passion for Baseball, that's the reason why he assumed drugs and ruined his real life. He wasn't a great player but he always loved that sport, and menage to get the most important ball of the Last Inning was his goal.

It's because of Yui and Otonashi's interruption if he wasn't able to reach it, but after that moment his dream becomes another one, and the profe is that in the 10th episode he playis Baseball with Otonashi but he doesn't disappear.
He falls in love with Yui and understanding Otonashi's intentions to makes her free to disappear.
It's in that moment that Hinata reveals his real feelings to her, and his desire to help all of the others.

In the last episode he pretends to be the president of the school and in the graduation of the others and him, we can know his first name for the first time.
Before disappearing he says to Otonashi that in the place that he'll arrive, he wants to use all his last luck, in order to meet again Yui.