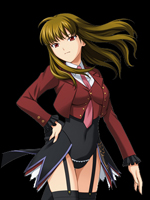 MAMMON OF GREED
Mammon is the most sincere and ironic of the Seven Sisters.
She's the greed and because of this she tends to try to obtain all the things she desires not just as the first but in the major part.
That's so for objects, money and all the kind of existing things, even the feelings of the others.
She's the best friend of Ange and when Ange tried to summon the Seven Sisters for the first time, she was happy to ascertain that she was the only one that can remain in the real world, so Ange's center of attention.
She always wants to be the first one (even studying and reading books) and her greediness has not limits.
But she's very close with the other sisters and she always desire to have them beside her. In fact, she asks to Ange to try and try again to summon them, until she'll be able to have them all in the real world.
● Lucifer ● Leviathan ● Satan ● Belphegor ●
● Mammon ● Beelzebub ● Asmodeus ●