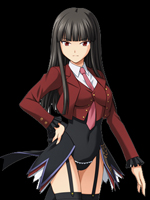 LUCIFER OF PRIDE
As the sin she represents, Lucifer is so proud.
She's the major of the seven sisters and because of this, she demands to be considered the strongest and the most important one, but it's not like that.
In fact, she's selfish and arrogant. Her only (apparent) reason to live it proving to Beatrice and the others that she's the number one, but the only results she obtains is that she proves himself weak.
Her infinite sense of pride is her major weak point, and because of that she never obtain the desired respect from the sisters, that only taunt her knowing that umiliations are insufferable for her.
Even if she's pretty good to humiliate herself because of her arrogance, Beatrice proves that Lucifer is the sister that she respects the most and that she can put her trust in.
In the Episode 6 Beatrice asks to her to throttle Natsuhi instead of her, and this is the major merit that Lucifer could desire.
● Lucifer ● Leviathan ● Satan ● Belphegor ●
● Mammon ● Beelzebub ● Asmodeus ●