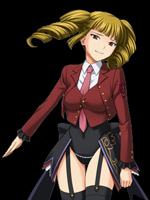 BEELZEBUB OF GLUTTONY
That's the case to say that Gluttony is totally her sin, because she spends all her time talking about food and searching for it.
She's always there to have a tantrum in order to obtain what she wants.
Since she's one of the youngest sisters, she's very close to Asmo, and she tries to obtain the favour of the other sisters making puppy eyes.
She likes to aet sweets and cakes, but her favorite part of food are guts of people.
She's one pf the most devoted ones to Beatrice, and she proves her devotion in the Episode 7, when she tries to protect her master even against the will of the others.
● Lucifer ● Leviathan ● Satan ● Belphegor ●
● Mammon ● Beelzebub ● Asmodeus ●