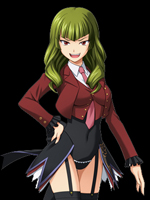 LEVIATHAN OF ENVY
Leviathan is the second sisters in order of seniority, but she's not proud of this like Lucifer. She's crybaby and she easily becomes envious of anyone.
She's strong and very able in fight but her personality and her bad habit to pull down her opponents are her weak points.
After the match against Kyrie in the Episode 3, they become very close and in the Episode 6, when Kyrie is in difficult, she calls her and Leviathan appears to help her. This fact proves that she's the only one of the Seven Sisters that appears anyway, even if the call is not from Beatrice.
● Lucifer ● Leviathan ● Satan ● Belphegor ●
● Mammon ● Beelzebub ● Asmodeus ●