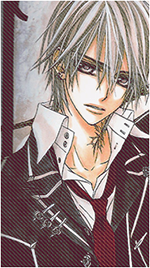 Name: Zero
Surname: Kiryu
Real Status: Vampire, Vampire Hunter
Human Age: 17
Height: 181cm
Hobbies: Eating and Sleeping
Weapon: Bloody Rose

Zero Kiryu is unique being both a vampire hunter and a vampire. Yuki's close friend and a Cross Academy Guardian, he was trained to be a vampire hunter by Toga Yagari. Zero lives with Kaien Cross and Yuki, after being bitten by a Pureblood vampire, Shizuka Hio, who also murdered his family. Due to the attack, Zero developed a deep hatred and distrust of vampires, despite originally being a gentle character by nature; however, he retains his kindness beneath his scowls, always looking out for the Day Class students in case the Night Class "misbehaves". He has a tattoo on his neck that allows him to be restrained by a charm that temporarily immobilizes him and allows him to enter the Hunters' Association's headquarters. Zero also holds a deep hatred for Kaname Kuran, who tells him that he is simply a shield for Yuki. Zero is deeply in love with Yuki, but chooses to hide it; his feelings with left temporarily confused after Yuki was revealed to be a Pureblood vampire, but Zero continued to love her. In the anime's final episode, Zero lets her drink his blood, allowing Yuki to see how he feels about her. He is one of the few vampires whose body refuses blood tablets, leaving him constantly thirsty for blood; Yuki often gives him her blood to satisfy his thirst. After the time skip, Zero is being considered for the position of president in the future for the Association, and he also drinks the blood of vampires he hunts to satisfy his thirst. Matsuri Hino described Zero as exemplifying her hesitant nature.
Information Source: Wikipedia