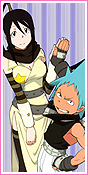 Tsubaki (Weapon) and Black ☆ Star (Meister) are introduced in the second chapter of the manga. They seem, from the begin, a very strange couple because they're totally opposite.
    Black ☆ Star has a strong and outgoing personality that is in contrast with the kind-hearted one of Tsubaki, but since she has a lot of patience, she's always friendly and hides her true feelings, they continue to be a couple that is always serene. In the academy, they're one of the best couples in battles, and they're the first one to learn often new abilities, especially when it comes about the resonance.
    I found very cute their first meeting. Black ☆ Star was having one of his shows in front of a crowd of people, and, while yelling that he was like a god and such, Tsubaki was the last one who remained there 'till the end. She was clapping him happily, and, since he was a Meister and she was a weapon, they decided to become partners.
    They're a very close couple and they trust each other in every situation. It was very cute from him to remain at her side during Tsubaki's fight against her brother Masamune: he was hit by many people of the village because he is from the Star Clan, but he didn't lift a finger up to the moment in which she ended her battle.