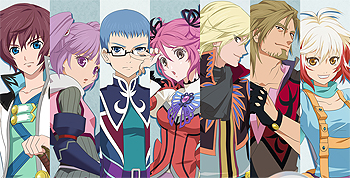 Tales of Graces takes place in a planet known as Efinea. The people of Efinea use a substance called Arles which is composed of another substance called Cryas which has allowed civilizations on the planet to flourish. On Efinea there are three kingdoms--Windol, Strata, and Fendel--who are competing for dominance of the planet.
In the remote region of Windol lies the city of Lhant. The eldest son of the feudal lord Aston, Asbel, is a bright and cheerful boy who spent his childhood like any other carefree boy does: enjoy everyday together with his irreplaceable friends. After an unknown incident occurs, a strong determination awoke within him which led him to enlist himself in a knight's academy in the capital.
Graces takes place seven years after the incident. In his eighth year, Asbel has grown up and established himself as a fine knight. However, at the death of his father, Aston, he gives up his dream to become a knight and takes over his father's position of a feudal lord.