PROFILE
Name: Richard
Age: 19
Height: 178 cm
Weight: 67 kg
Class: Fine Knight
Styles:
--- Fine Sword Techniques (細剣技)
--- Attack Artes (攻撃術)
Seiyuu:
--- Daisuke Namikawa (teen years)
--- Yūko Sanpei (childhood)
Quotes: "You really are special. Truly it means you are a friend I can place my trust in."
Richard is the Prince of the Kingdom of Windol. He receives immense support from the citizens who place great expectations in him for the future. His character is that of a calm and delicate man. He seems to be quite hurt about the political turmoil and incessing disputes going on within the palace regarding who will be the successor to the throne.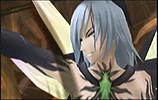 He and Asbel met when they were just children and considers him as a special friend whom he places tremendous trust in.
Lambda-Richard is Richard's final form. He's fully absorbed the power of Lambda and the Cryas, and has transformed into something resembling the devil. He's powerful.