Since she isn't a sociable person she really hasn't interaction with the other characters. Marion's most meaning relations are limitaed to the ones with her team, Hao and the meeting with Mikihisa.
HANAGUMI TEAM

This team is simply the way to be part of the Shaman Fight, but she never smile with Kanna or Matilda, she doesn't feel particular feelings for them. Sometimes we can see her trying to defend the others, but it's a reflect to the fact that Kanna and Matilda share her same past. She doesn't smile and she isn't happy with them, they're just comrades, not friends.
HAO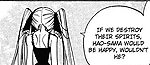 We'll never see Hao and Mari togheter, but we know that she follow his orders in order to destruct the world and be part of the Shaman Fight. She thinks about him like a messiah and she makes all is possible to help him to realize his plane to destruction.
MIKIHISA

He's the one who tried to teach her the meaning of be a child.
Marion's childhood is lost forever but he tried to say her that be gentle is important for a girl, and that you must take care of your things and how is important to you.