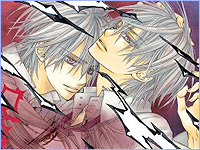 The relationship between Ichiru and Zero is very sweet but harsh at the same moment.
    Since the childhood, they were very close and, maybe even because they were twin, they were always together, no matter what. Ichiru was the most attached of the two, and always tried to stay with Zero, even if he had fever and should just remain in his bed. The main problem was that Ichiru's health was really bad and their future would surely be different, as it will become once that the boy will know
Hio Shizuka
. After that he allies with her, his relationship with Zero becomes a rivalry, and their bond will be almost broken.
    In fact, when they will see each other again at the Cross Gakuen, Ichiru will be there just to avenge himself from the pain he suffered in the past. They won't have the chance to talk very much, but Ichiru was sure about to kill his brother, instead, Zero was not, and at the begin, he couldn't even understand what was happening and why.
    In the last part of Ichiru's life, we'll see that, actually, he always loved his brother as when he was a little child. In fact, when he will be about to die, he will reach Zero in prison, telling him to take the part that should always be his own (usually it was just a person the one who bore from the Kiryu's family, but this time, two twins were born, and Ichiru was the sick one, who couldn't become a Hunter, no matter what). Thanks to him, Zero will understand how big was the love that his brother had for him, and that, even if they were rivals for a while, Ichiru never forgot about the brother he loved this much.