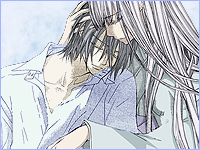 Ichiru and Shizuka's relationship is very deep, I think the deepest and the only real relationship of the series.♥
    It starts when Ichiru was a little and sick child, who, after hearing his mother talking at the phone and saying that he wouldn't be able to become a Hunter, tries to destroy his same family, helping Shizuka who was doing it because of revenge. So, Ichiru will go with her since that moment, in which Shizuka will bite Zero, his brother. In this period, she helps him letting him drink her blood, that will lead Ichiru to recover almost fully his bad health.
    During the period that they will be away, Shizuka will take possession of the body of Maria Kurenai, waiting for the moment in which she would gain again her own. Ichiru will help her as he can, and in this moments that they will spend together, he will fall in love with her. Ichiru, since the first moment, reminds to Shizuka her first love, that was something like a slave for her, who was the daughter of an important person. He was not as all the others, and, since she was like a bird in a cage, she found something interesting in this different man, that was not just a person who praised her. Yes, it was exactly as Ichiru, because he was very naive with her, and above all, he was sincere.
    He will continue to help Shizuka even if it meant to be against his twin: after that much time, it was like a challenge for him, who wanted to avenge himself from what happened to him during his childhood. When Shizuka will be again in her body, Ichiru won't be together with her, but, when he feels that she's about to die, he quickly runs to her, holding her in his arms for the last time. He will always keep her in his heart until the very end and will try to avenge her death by killing Rido Clan, the person who will injure him to death.
    Shizuka really liked him, and we can see it from the fact that Ichiru always told her to bite him to become a vampire, but she knew that it was a real waste of time and life, so she never did it, because she wanted only his integrity.