KOMAKI & HAINE

Komaki and Haine are blood-sister, but just for one parent, Maika, the mother.
Komaki's father is Kazuhito, Haine's father is Itsuki, but the two sisters know the true when they're adolescents.
It's a shock for Haine and Komaki, but Komaki always says to her:

Haine is my beloved nee-sama, I really don't care who is our father !!!

And that's true. Komaki always loved Haine, even when she was adopted by the Otomoya's family and for this reason they hadn't a meeting for long time.
A bond between sisters is something that nothing can delete, and Haine and Komaki are adorable together.



All Komaki's acts are made for her beloved sister, even when Komaki wanted to be Shizumasa's fiance in order to protect Haine. She's a bad liar, her lies are already find and she can't hide her feelings, because Komaki is a chrystaline person, that say what she thinks.
She'll never leave Haine's side and Haine will always there for her sister, their solder is the most important thing they share.



KOMAKI & KUSAME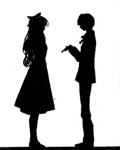 Komaki is the person of Kusame's destiny.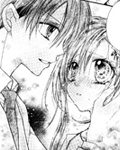 She is Haine's biological little sister, Kusame's schoolmate and also President of the Student Council of the Junior High.
Kusame and her start to have a relation because of a misunderstanding (Komaki declares him her feelings and in order to don't hurt her, he becomes her boyfriend), even if Komaki is really in love with him.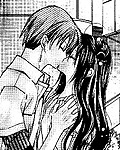 But their relation is very cold and superficial. Kusame never accepts her as girlfriend, but Komaki never surrenders to show him all her love and determination!

When she understood that Kusame considered her only a schoolmate, she decides to break their relation. Kusame agrees with her decision and when he turns to be a free man, in a first moment he's happy, but when he realizes how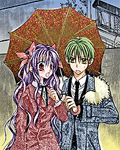 Komaki's feelings are strong and sincere, he understands that he's in love with her. So, Kusame asks to Komaki to turn again a couple and Komaki accepts, she really loves him, hell!! *_*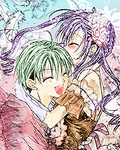 Now Kusame understands his feelings for her and they become a real couple, free from his obsession from Haine, that finally can be called "onee-san" by her step-brother.
When Kusame and Komaki are together, he isn't able to be natural and sincere with her, but step by step Komaki conquists his trust and now he can show her his problems and fears, Komaki can understand and support him in every situations.