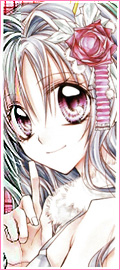 Name: Komaki
Surname: Kamiya
Rank: Gold
Birthday; unknown
Blood Type: unknown
Role: President of Imperial Academy Junior section's Student Council
Komaki is an adorable girl full of inner energy and love!

She's always sincere and direct, she says all the things she thinks to all and she doesn't worry of the consequences! When she's constricted to tell a lie, she does it for who is important for her, and she doesn't negate her faults and says she's sorry.
Her relation with Haine and their family is an important component of her personality, because even if Haine was distant, Komaki never stopped to think about her adorate sister and in order to know always what Haine was doing and how she felt, Komaki advicined Kusame (her future lover)!


Komaki's heart is sweet and warm, even if she faces many difficults, she can always find a solution to make all smile!

It is impossible don't love a special, sweet girl like her, that never surrender and fight for realizing her dreams!
When Kusame wasn't in love with her, she continued to make him happy with gifts and kindness, because all she wanted wasn't her happyness but Kusame's, they're destined to be a real couple!
Even if many times Komaki could be jealous of Haine, she always decided to don't hate her sister but to admire her!