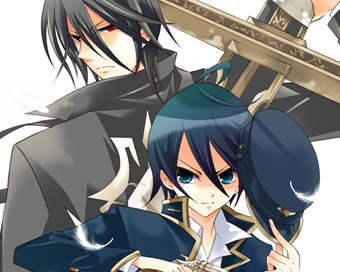 The guild that accepts and carries out murder requests, the assassin gropu Thanatos.
Whitin whis group is a force of 10 elite people. This force, called Number, have a variety of privileges. However, aiming for the top rank is not only for just a privilege. If they hold the #1 ranking for a certain period of time, they can reach the top of the giant tree pierces the universe, Yggdrasil.
And it was said that at the summit of Yggdrasil, a wish of their's can come true.
No.5, Toneriko, wants to destroy Tekirai, No.1, to avegnge his family. A long awaited meeting of this gropu's ranking was called forth and Toneriko will confront Tekirai, but will open the gate to Yggdrasil.
The murdere goal called "Black Sheep" is the point in time where there is a cycle of 999 murders. This repeats until the 10th cycle. And when "Black Sheep" reaches 999 people, the true Number 1 will be decided.