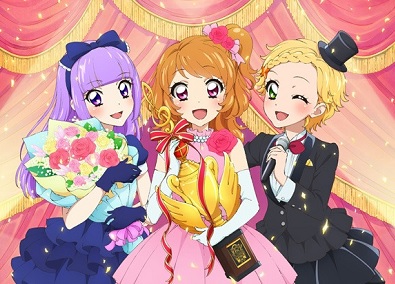 PLOT
The series takes place at Starlight Academy, a prestigious school with both middle and high branches, where girls train to become idols and take part in various auditions. such as live, fashion show, and drama. To participate in these auditions, players use Aikatsu cards, special cards which contain digitized dresses and accessories from various manufacturers that are used in their auditions. How well they succeed is often dependent on choosing the right combination of cards. The video games cast players in the role of a new student, who must train to become an idol and reach the top.
The anime series follows a girl named Ichigo Hoshimiya, who becomes inspired by a performance by top idol Mizuki Kanzaki and enrolls in Starlight Academy alongside her best friend, Aoi Kiriya. Along with their classmate, Ran Shibuki, Ichigo and Aoi spend each day training for auditions and aiming to become top idols.
The second season starts with Ichigo returning from America to Starlight Academy, as she now befriends and competes with the students from a new idol school, Dream Academy, which has Seira Otoshiro and her fellow idols.
The third season focuses on a new generation, featuring Akari Ōzora, a young girl chosen by Ichigo to join Starlight Academy, and her friends. They do their best in both the Partner's Cup & the Great Starlight School Festival.
The fourth season centers around Akari's new unit with Sumire Hikami and Hinaki Shinjo, Luminas, going on a nationwide tour and meeting with idols from all over Japan. With these meetings, it prepares them for the big event - The Starlight Queen Cup.
Information Source: Wikipedia