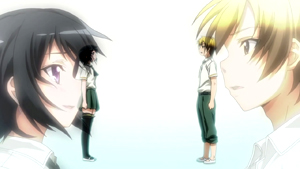 BOKU WA TOMODACHI GA SUKUNAI
Kodaka Hasegawa is a recent transfer student to St. Chronica's Academy, a Catholic high school. As with every other school he has ever attended, he finds it difficult to make friends there because of his naturally-blond hair (inherited from his deceased English mother) and fierce-looking eyes, which make him look threatening to his prejudiced schoolmates.
One day, Kodaka accidentally comes across the equally solitary and very abrasive Yozora Mikazuki while she converses with her imaginary friend Tomo. Realizing that neither of them have any social lives, they decide that the best way to improve their situation is to form a club–the Neighbor's Club –precisely intended to make friends and learn social skills.
Five other members soon join the club, starting with the school's well-connected but arrogant idol Sena Kashiwazaki, who has no female friends of her own because of their jealousy over her many male admirers. The next to join is Yukimura Kusunoki, a feminine underclassman of Kodaka's who rather idealizes him and follows him in the hope that it will teach him to become manlier. Maria Takayama is a 10-year-old "genius" teacher and nun at the academy whom Yozora recruits to become the club adviser. Rika Shiguma is an underclassman and well-known scientific genius with fujoshi tendencies who joins the club after Kodaka rescues her from a laboratory accident. Finally, Kodaka's younger sister Kobato is in St. Chronica's middle school division and is a fan of Gothic anime.
Informations Source: Wikipedia