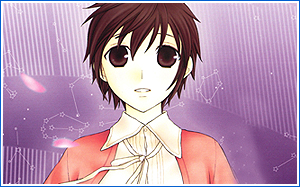 Sakuya has a kind and cute personality, but she's a very shy girl and is much introvert, especially with people she doesn't know. She lives with her cousin Miyako Kanade, with whom is very attached to, even if he's always serious (but funny at the same moment, LOL! XD).
    From when she was a little girl, she loves to look at the stars, because with their shimmer, they let her escape from reality and calm down when she's sad. This world of the star bewitches her this much that, once she attended the high shool, she decided to make a club for it. Even is just composed by four people (Saku included), she's happy, because it is really a big satisfaction!
    Although she's shy, with her friends she always makes her best, and she bends over them to help when it is needed. But her nature doesn't allow her to look for help when she needs it, in fact, she often preferes to manage to escape from those situations by herself. Luckily, Sei-chan and Kanade will help her to understand that she has to open herself when there's a problem... or how can her friends help her if they don't know that there's one?
    From the first time she sees Chihiro, she falls in love with him, and even if he ofted treats her badly, she's always there for him, even if that means to be a disturb. The matter is that Sakuya understands that Chihiro has something inside of him, a sorta of problem of which he doesn't want to talk, and, saying near him, she wants to help him in how she can. Anyway, thre will be many times in which Chihiro won't leave her side and will be her support.
    Unfortunately she has a very sad past. When she was a baby and lived with her dad, she knew the person that would become her stepmother. That woman was evil with her, and always treated her in the worse way, just because of her hobbies or similar. After that Sakuya tried to withstand this situation, the stepmother continued to tell her that she was not a good daughter and that she seemed an alien. This thing marked Sakuya's life, and from that moment on, she left her home and went to live with Kanade, where she finally lives happily. In order to don't be a burden for her family or for him, she even works to support the monthly pays.
ABOUT
FANLISTING
SITELY
EXTRAS