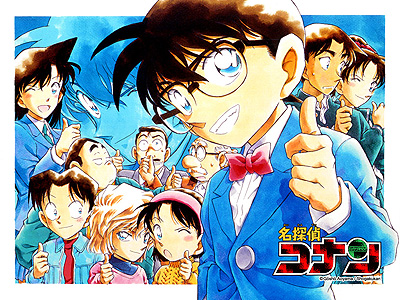 ABOUT MEITANTEI CONAN
Case Closed, also known as Detective Conan (名探偵 コナン, Meitantei Conan) in Japan and most other countries, is a Japanese detective manga and anime series written and illustrated by Gosho Aoyama and serialized in Weekly Shōnen Sunday since 1994. In the English world, it was renamed "Case Closed" due to legal issues concerning the name with that of the Conan the Barbarian franchise.
Case Closed follows the adventures of Shinichi Kudo, a prodigious young detective who was investigating a secret criminal organization when he was knocked out and given a drug that was supposed to kill him, but inadvertently transformed his body back to that of his seven-year-old self.
Case Closed is adapted into an anime series by the animation studio Tokyo Movie Shinsha, directed by Kenji Kodama and Taiichiro Yamamoto, and airs in Japan on Nippon Television, Yomiuri TV and Animax. The first episode aired on January 8, 1996, with 520 episodes as of December 15, 2008. The series has seen high levels of popularity in both manga and anime formats in Japan since its reception, and has also been adapted into 12 Golden Week movies, with the first released on April 17, 1997, and one movie released each year since. Ten of the movies held a top 10 box office position in the year they were screened. In addition, nine OVAs have been released.
Informations source: Wikipedia