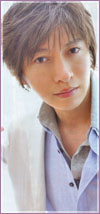 Daisuke Ono (小野 大輔, born May 4, 1978) is a seiyū who works for Mausu Promotion. He was born in Kōchi Prefecture and his blood type is O. He weighs 64 kg (about 141 lbs) and his height is 174 cm (about 5'8").
CAREER
He used to be employed under Aoni Production.
During his attendance at Nihon University's College of Art, Daisuke pursued a career in television broadcasting. However, his work was heavily criticized by his professor, and he soon took an interest in performing instead. He then pursued a career as a seiyū, and began by taking minor roles as characters on the Television Kanagawa station.
In 2006, his role as Itsuki Koizumi in The Melancholy of Haruhi Suzumiya proved to be a breakout role for him, and raised his popularity substantially.
He is typically typecast as one who holds himself in high regard either as a hero, an intellectual, or a cool-spirited youth.
PERSONAL
It is said that his hair grows very quickly. He is quoted to say however, that his moustache does not grow nearly as fast and that he can go two days without any trace of growth in that area.
He dislikes eating raisins.
His favorite foods are Chinese noodles, nuts, and almonds.
During the time spent recording for The Melancholy of Haruhi Suzumiya , he was the first of the seiyūs who learned the animated choreography shown during the ending theme song Hare Hare Yukai.
He is a major fan of the Gundam series, as it is often the topic of his radio show Ono Daisuke no GIG ra Night! whether it is about the anime series or collecting Gundam figurines. Incidentally, he voiced Sven Cal Bayan, protagonist of the ONA Mobile Suit Gundam SEED C.E. 73: Stargazer.
From Wikipedia