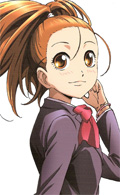 Name: Nonoha
Surname: Itou
Seiyuu: Shimizu Kaori
Kaito's childhood friend, who always accompanies him when he goes to solve puzzles. She possesses great strengths, excelling at sports, and has a photographic memory, though she is not too good with actual puzzles. She often makes sweets that almost everyone finds delicious but Kaito is incredibly fearful of. After helping some kindergarten kids during a puzzle, she ends up with the title 'Nightingale'. This is a shock for her, since she sees everyone with a title as a "weirdo".
Throughout the series, it is heavily hinted that Nonoha has feelings for Kaito. She does not hesitate to stalk Kaito when there is another girl or woman involved. For this purpose, she always forces Gammon to tag along. However, she does not admit that fact to herself, often claiming it has nothing to do with her. She is also somewhat of a tsundere-type and takes her frustrations out on Kaito, mostly, when he insults her cooking.