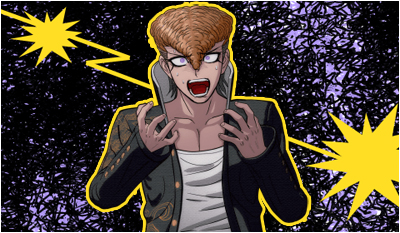 Name: Mondo
Surname: Ohwada
Title: Super High-School Level Gang Leader
Birthday: June 9th
Gender: Male
Height: 187cm
Weight: 76kg
Seiyuu: Nakai Kazuya
Something about Mondo...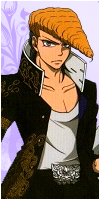 Mondo born in a misfit family, and the only person he trusted was his older brother, Daiya. He had a dog called Chuck, and it was a Maltese. Mondo says that his dog was so smart, the kind of cute creature that everyday took the newspaper to him.
Evrrything but that moment of Mondos' life was a disaster, because he always felt envious and insecure in regards of his brother, that other than a guide, represented even someone to surpass to Mondo.
The gang called Crazy Diamonds was foundend by Mondo and Daiya, but Daiya was the only one considered the leader and the #1 of the ganf, Mondo was the #2.
Because of this, one day Mondo challenged him with their motorcycles, but in order to save Mondos' life, Daiya died. Before dying, he asked Mondo to make a promise: he'll always keep the gang united.
From that moment on, Mondo become unstable. He promised that to his deadly brother, but since he was not sure of himself, he tried to convince himself that he was strong.
"I'm strong, I'm strong, I'm strong, I'm strong", are the words that Mondo put in his mind in order to persuade himself that was the truth.
So, from that moment on he became the Ohwada Mondo we met at the begin.
Transgressive, crazy and self-confident. He developed a strong but unstable personality that made him able to do everything he wanted, but at the same time, he had not control of himself.
That's the reason why, when Fujisaki confided him he was a guy and he wanted to become strong, Mondo lost control and finished to kill him.
He didn't want to do it, but at the end he did it.
Before this moment, that put an end to his life, after a challenge in the sauna he become friend with Ishimaru at the point that each one called the other one "kyoudai", and they were about acting like brothers. Even if... the truth is that Ishimaru was the only one that totally trusted Mondo, because Mondo never revealed him the truth about his brother's death, and the one about Fujisaki's death too.
Ishimaru admired Mondo more than anyone else in the world, but at the end he wad betrayed by him, that didn't trust him enough to tell him the truth about himself and that dark part of himself that he tried to hide for years.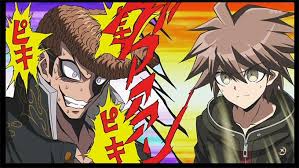 So Mondo was found guilty by Neagi and executed as the murderer of Fujisaki.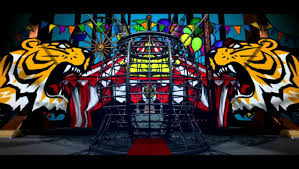 His execution is called Motorcycle Death Cage, that is inspired by a story called The Story of Little Black Sambo :
"Sambo is a South Indian boy who encounters four hungry tigers, and surrenders his colourful new clothes, shoes, and umbrella so they will not eat him. The tigers are vain and each thinks he is better dressed than the others. They chase each other around a tree until they are reduced to a pool of melted butter. Sambo then recovers his clothes and his mother makes pancakes out of the butter."
Mondo, also, become butter... and Monokuma makes pancakes with it.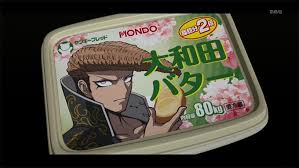 Anyway... I can't blame this boy.
He was mentally changeable and he had no control of his actions, but he didn't want to kill Fujisaki, it was an incident that happened because Mondo saw himself in Fujisaki, but at the countrary of him, Fujisaki shown the will to change asking help to the person that he admired the most. Mondo did everything alone, and that's the reason why he always tried to escapes from problems, never facing them.
Truly he was a kind and beautiful person who loved motorcycles (his one was a kawasaki, that he considered the best one in absolute) and having fun with friends.
He also had a strong sense of honour and when he gave his word of man, that meant he'll always keep that promise.
Since Mondo is a B I G tsundere, there are cute sides of him that he tried to hide, but that were an evidence.
He was not sure about what he wanted to do after the graduation, but his intention was to become a carpenter, because he wanted to stop to escape from the serious thing and he promised to Naegi and to himself to do his best to construct things inestead od destroying them.
He reveals to Naegi that since he was the gang leader #1 and obviously the strongest, everyone from other gang always tried to get his head, but he was so strong that he beaten up them all, even eight people on a row.
Oooh, also. Since Mondo is a shy boy he was refuted by ten girls in a row because of his biggest weak point, the fact that he easily loses control and starts to scream.
Kawaii~
Ah...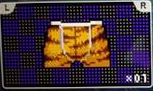 His underwear is a bad joke related to his execution, but it's not that bad.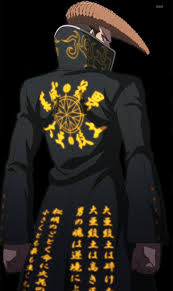 And about his coat, what's wrote there is:
Diamonds do not break.
Diamonds are created under high pressure.
The soul of a man is created under adversity.
Let your radiance shine like a burning torch.
About Mondo's character, it takes inspiration from Higashikata Josuke from Jojo's Bizarre Adventure series 4: Diamond is Unbreakable.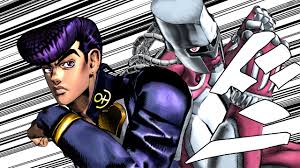 Their hairstyles are the same, their personalities are similar, they're susceptible when people insult their hair and also Mondo's gang is called Crazy Diamond, just as Josuke's Stand.
I think that's all...!