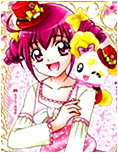 Name: Miyuki
Surname: Hoshizora
Alias: Cure Happy
Age: 14
Seiyuu: Fukuen Misato
Miyuki is the character that more than any other represents the thing that gives to her the power: happiness!!
She's positive and cheerful, always ready to help who needs a hand.
She's a spontaneous person that considers life like a dream. Also, she loves illustration books and any kink of stories with a happy ending! She think that every story of the world could have a happy end, and eveytime she fights, she always care to give a proper happy end to everyone!
Miyuki is sweet and kind, many times not that self-confident, because she thinks to doen't have any kind of talent. Her happiness and her desier to make the others happy are the best sides of her, and friends and people that known her are always ready to smile, thanks to her innate ability to give a chance to everyone!