BIOGRAPHY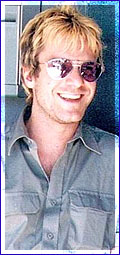 Born on March 25, 1973 in Rome, he's an Italian voice actor.
He's the son of Luciano Alto (famous radio voice and voice actor) and of Ughetta Lanari, and nephew of Beatrice Margiotti. He starts his career in the 1977, when he's just 4, taking part to a group of children in the program Sesamo Apriti in which took part in the Muppets. When he was 5, he was the voice of Spanky in Le simpatiche canaglie. When he was 9 he was the voice of Red (as puppy) in Red e Toby - Nemiciamici.
Recently he undertook the career of director's dub in different films, in which is remarkable the quality as "La Maschera di cera", "Deja vu", "300", "Il mistero delle pagine perdute".
He started to study music when he was 12 with the classical guitar. Some years later he continued with the piano. In 1997, with his band called Web (the actual Emily), he won the reward as best beginner band in Sanremo's Rock Festival.
Translated from here