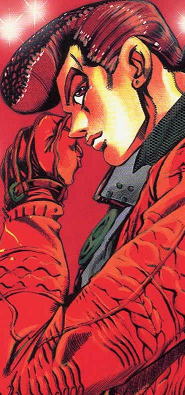 Name: Josuke
Surname: Higashikata
Stand:Crazy Diamond
Sign of the Zodiac: Gemini
Blood Type: B
Age: 16 (In 1999)
Father: Joseph Joestar (76 years old)
Mother: Higashikata Tomoko (36 years old, Teacher)
Granfather: Higashikata Ryohei (55 years old, Policeman)
Height:185cm
Hobbies: Playing games, Listening to Pince's disks.


Josuke is a kind and quiet boy that usually spends his time with his friends.
He has a good personality, but when someone insults his hairstyle, he gets mad and becomes a demon.

His stand, Crazy Diamond, has the abilities to takes back things as Josuke's remember, and this is not only for objects but for humans too, and everything else. The only thing he can heal or taking back is the life of a dead person.