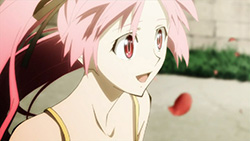 SHIMIZU MEGUMI

Megumi is a funny and energic girl that lives in a little village.
Her dream is to live in a big city and to marry a prince. This is the reason why she admires rich people and she loves the big residence located on the mountain.
She feels totally unsatisfied of her life beacuse in that little village she can't dress like she wants, all the countrymen make fun of her.
Apart the residence, the only thing she like there is Yuki Natsuno, the guy she loves.
But... Megumi-chan is an un-lucky girl, TOTALLY unlucky, and Yuki isn't interested in her. It's the opposite: he says to hate her.
Megumi's days can be happy even with a meeting with him to the bus-stop, even with a word by him, even if he could cast a glance to her.
In a moment of rage she decides to go up to the mountain and to meet who live in the big residence, but when she arrives there, she doesn't find the happiness that she was searching for.
She disappears for the night and when her countrymen find her, she's in a part of the mountain, no one single light in her eyes. The succesive day Ozaki-sensei (the doctor) makes a chekup on her and he says that her blood-pression is high and maybe she's a bit anemic, but he didn't think that some days after, she'll be dead.
Her funeral is squalid, her best friend Kaori is the only one that feels very sad for Megumi-chan, the others are afraid to be infected by a sickness that in that period is killing a lot of countrymen from that village.
Truly, Megumi-chan isn't really "dead".
She passed away but she was resurrected as shiki, a creature similar to zombies and vampires, that lives sucking bood.
Anyway, now she's comrades of other shiki and she can dress and live like she wants, but a single thing. There's a leader and all the shiki have to follow him and his order.
Megumi decides to don't suck Yuki's blood, because she's really in love with him and she doesn't want he dies like her. But after the orders of the dead, Tohru-chan, Yuki's best friend, have to bite him. Megumi tries to protect her beloved Yuki but she can't, and Yuki dies, becoming a shiki.